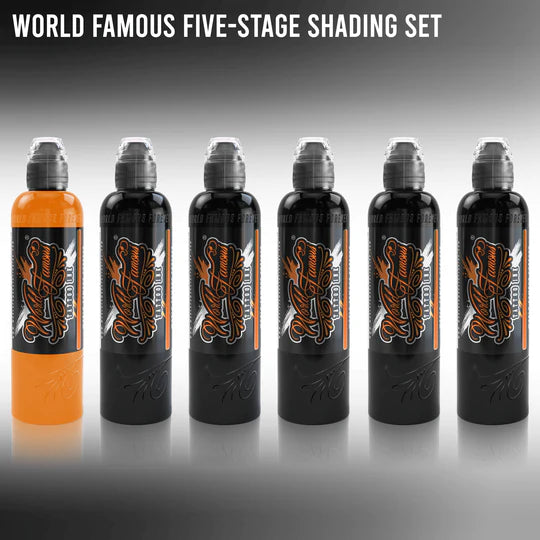 World Famous Five-Stage Shading Set
---
World Famous Ink 6 Bottles Five-Stage Shading Set
World Famous Tattoo Ink is revolutionizing the industry with their high quality tattoo inks. Their dedication and knowledge of how to amplify tattoo artists' work are reasons why they're being used by the most sought-after artists around the world. World Famous inks are vegan-friendly and EU approved. They are sterilized with gamma radiation and bottled in crystal-flex bottles with a secure twist cap and a tamper and water proof label.
This World Famous Five-Stage Shading Set contains five essential graywash tattoo inks and one special shading solution.
Specifications:
Size: 1oz, 2oz & 4oz
Vegan-friendly and EU approved
Tamper-proof label; crystal-flex bottle with twist cap
Sterilized with gamma radiation
See below for colors included
Manufactured in New York, USA
Price per one set of 6 bottles
Set Colors:
Light Greywash, Midtone Greywash, Ghost Greywash, Charcoal Grey, Dark Greywash, Special Shading Solution
Free Same Day Shipping for Orders Over $200.