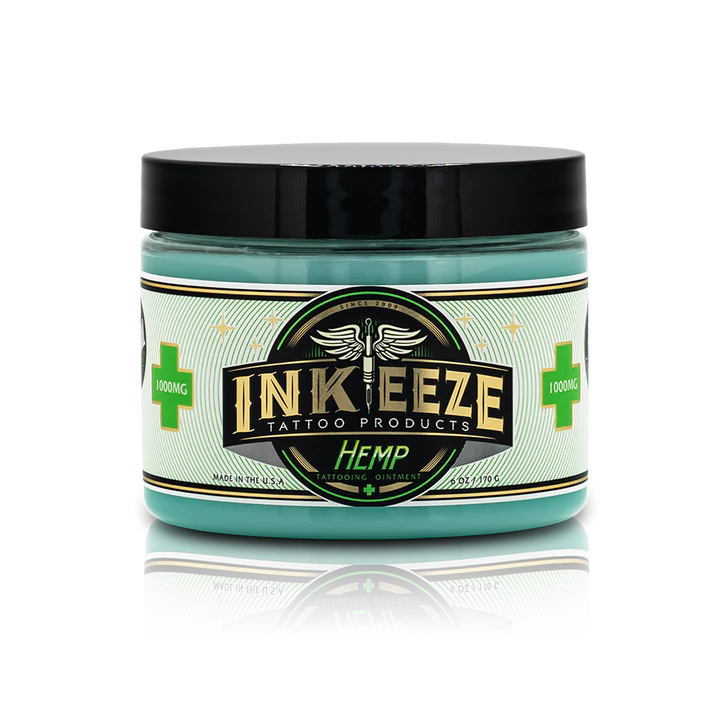 Ink Eeze Hemp Tattoo Ointment
---
After years of development, along with increasingly positive results regarding the benefits of HEMP, we felt that now is the best time to release our HEMP Tattoo Ointment. This Tattoo Ointment is an all natural ointment infused with essential oils. The formula was developed by a team of tattooers and skin care specialists to be used as a lubricant during the tattoo process - it also works fantastically as an aftercare product. The tattoo ointment can also be used for your own sore wrists and joints.

This is a non-psychoactive extract of hemp. When used topically, HEMP offers many benefits: pain relief, reduced muscle soreness, and lessening of inflammation. It is also a powerful antioxidant that encourages recovery for skin and balance due to homeostasis from the interaction with CB2 receptors in the skin.
Ingredients: Candelilla Wax, Shea Butter, Sweet Almond Oil, Grape Seed oil, Geranium essential oil, Chlorophyll, Cannabidiol (1000MG)
Free Same Day Shipping for Orders Over $200.