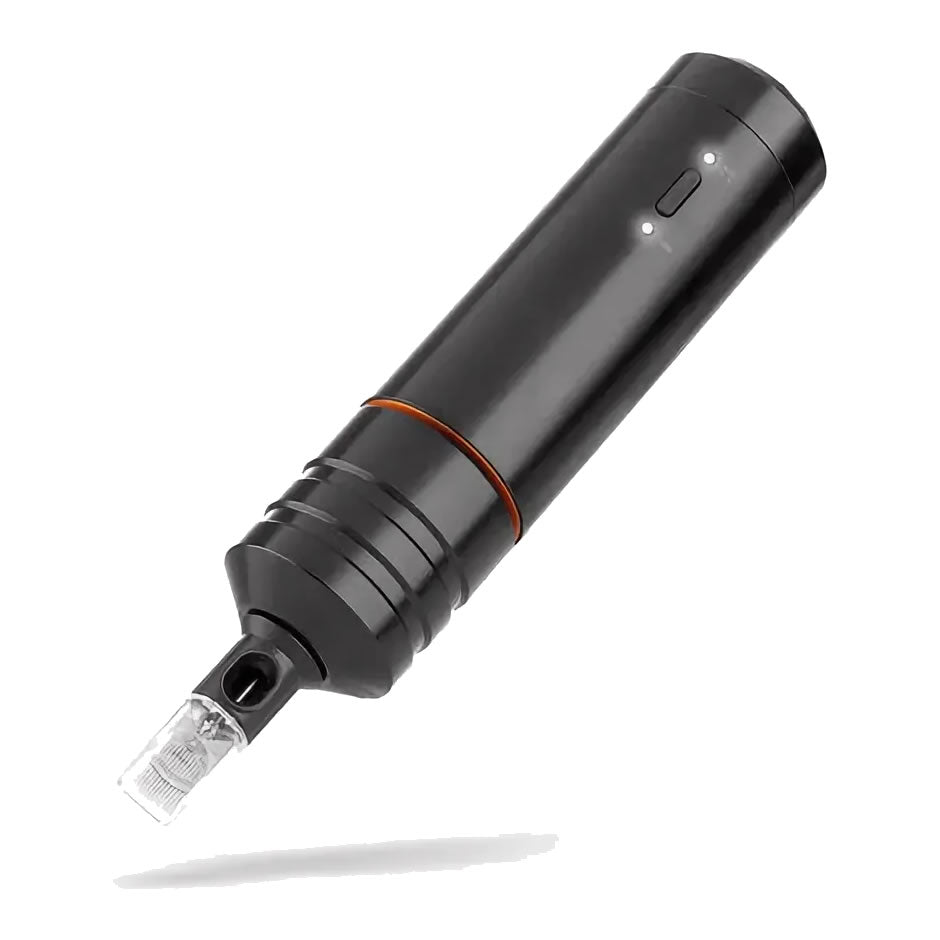 Cheyenne Hawk SOL Nova Unlimited black 2.5
---
In stock, ready to ship

Inventory on the way
Cheyenne Hawk SOL Nova Unlimited black 2.5


2.5 - The Beauty
- especially suitable for gentle shading and careful working on sensitive body parts.

The SOL Nova Unlimited comes with a comfortable 33,0 mm SOL Nova Grip. This wireless tattoo machine can also be used with Disposable Grips available in three sizes (only Ergo One Inch and Ergo Round Disposable Grips fit the SOL Nova Unlimited). Also included are two batteries (Panasonic NCR18500A) and a charger with cable.
We recommend using Cheyenne Cartridges with the patented Safety Membrane to avoid the backflow of fluids into the tattoo machine.
Technical details:
Stroke: available in four options 2,5 mm, 3,5 mm, 4,0 mm and 5,0 mm
Needle depth: 0 - 4,0 mm for SNU 2.5 and 3.5; 0,25 – 4,25 mm for SNU 4.0; 0,25 – 3,25 mm for 5.0
Motor: BLDC motor
Frequency: 25 -140 Hz
Size (Ø x L): 33 mm x 125 mm
Weight: 152g (without battery), 184 g (with battery)
Manufactured according to medical standard: ISO 13485
Made in Germany
Includes: 1 Cheyenne SOL Nova Unlimited 33.0 mm Grip
1 Case
1 battery box with 2 lithium-ion batteries
1 Charger including USB cable
SOL NOVA UNLIMITED - THE ULTIMATE WIRELESS TATTOO MACHINE WITH ONE-BUTTON OPERATION
Cheyenne SOL Nova Unlimited is a wireless tattoo machine, which offers you maximum freedom through cordless operation. It works with a rechargeable battery, which guarantees a minimum of five hours working time. This wireless tattoo machine comes with two rechargeable batteries, each with a minimum of five hours working time, while the charging time is only 3 hours (at 5V and min. 2A). The SOL Nova Unlimited has the same quiet and low-vibration operation, which you are used to from the predecessor SOL Nova.
Furthermore, the SOL Nova Unlimited extends the features of the standard SOL Nova and lets you switch between two operating modes. The Responsive Mode offers reactive hit and stitch frequency and in Steady Mode the hit and stitch frequency stay constant. The new wireless tattoo machine has the revolutionary one-button operation and motion control. The frequency is adjusted quickly and intuitively by holding the button while tilting the machine. The single button is also used to switch the tattoo machine on/off, pause it or change between the operating modes. Besides the button, the SOL Nova Unlimited has two LED-indicators, the Mode Indicator and the Power Indicators for a better workflow.

Warranty
The SOL Nova Unlimited comes with a 12-month warranty.
Free Same Day Shipping for Orders Over $200.